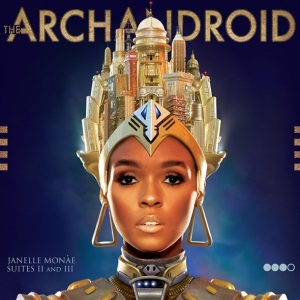 For the most part, individual songs don't offer enough material for the kind of analysis exercised in this class. However, there have over the years been a few operas and concept albums that might be worth considering. It's worth noting that many of these musical treatments are adaptations of earlier literary dystopias, though.
In the classical music realm, according the the English National Opera web site, we have Philip Glass's The Marriages between Zones Three, Four, and Five, based on a novel by Doris Lessing, and Leoš Janáček's The Makropolus Affair, based on the play by the great Karel Čapek (who coined the term robot in 1922).
In the world of rock and roll, we have a few more options, as suggested by the editors on Wikipedia, although many are not considered the best work by those particular artists.
Room 101 Radio: Music for the Masses
As an ongoing project for this class, we have a YouTube Music playlist that incorporates a variety of songs that explore dystopian themes. You can view the current track list below or use the link to listen to the full playlist. Students can post comments below to recommend additional songs, as long as they include a justification for that particular song.
'1984' by David Bowie (3:28)
'Another Brick In The Wall (Part II)' by Pink Floyd (3:53)
'Anthem' by Rush (4:22)
'Assimilate' by Skinny Puppy (6:57)
'Big Brother' by Stevie Wonder (3:34)
'Black Steel In The Hour Of Chaos' by Public Enemy (6:24)
'Brave New World' by Michael Penn (4:33)
'California Uber Alles' by Dead Kennedys (3:28)
'Clampdown (Remastered)' by The Clash (3:51)
'Dance or Die (feat. Saul Williams)' by Janelle Monáe (3:13)
'Destroy Babylon' by Bad Brains (1:20)
'Dystopia' by Megadeth (5:00)
'Dystopia' by KMFDM (4:56)
'Everybody Wants To Rule The World' by Lorde (2:36)
'Fight The Power' by Public Enemy (4:43)
'God Save the Queen' by The Sex Pistols (3:21)
'I'm Afraid of Americans' by David Bowie (5:01)
'II. Worldstar' by Childish Gambino (4:05)
'Letter To The Free' by Common (4:25)
'Mr. Roboto' by STYX (5:29)
'Oh! You Pretty Things' by David Bowie (3:14)
'Perfect System' by Oingo Boingo (3:46)
'Subliminal Fascism' by Fishbone (1:28)
'Tear The Facists Down' by Woody Guthrie (2:10)
'Testify' by Rage Against the Machine (3:31)
'The Beginning Of The End' by Nine Inch Nails (2:48)
'The Future' by Prince (4:08)
'The Future' by Leonard Cohen (6:42)
'The Man Who Sold The World' by Nirvana (4:22)
'The Message' by Grandmaster Flash and The Furious Five (4:25)
'The Revolution Will Not Be Televised' by Gil Scott-Heron (3:08)
'The Rising' by Bruce Springsteen (4:48)
'The Sounds Of Silence' by Simon & Garfunkel (3:06)
'The Sprawl' by Sonic Youth (7:43)
'Thousands Are Sailing' by The Pogues (5:27)
'Welcome To The Jungle' by Guns N' Roses (4:34)
'Welcome To The Machine' by Pink Floyd (7:32)
'When Will They Shoot?' by Ice Cube (4:37)